I am admittedly not the target audience for Mafia Mamma. This is a chick flick (nothing wrong with that) mob comedy about empowerment. The best aspect of Catherine Hardwicke's film is that it's about a flawed woman who has some shit happen to her, and we can somewhat identify with her. Beyond that, though, the film is pure fantasy, and the comedy largely falls flat. Were it not for the presence of Toni Collette and Monica Bellucci, this film probably would have been straight to streaming. By looking at the box office results, perhaps that would have been the better option. Yes, it's sad that genre movies aimed at females 25 and up seem primarily like a thing of the past. Perhaps the intended audience will find it when it comes to streaming, but I can't recommend Mafia Mamma for theatrical sitting. I don't think you'll have to wait long to miss it when it's gone.
Mafia Mamma stars Toni Collette as a middle-aged writer named Kristin who works a thankless job at an ad agency where they take her for granted. Also, her son recently left for college, and she discovers her husband is cheating. Darn, poor Kristin. The setup of Kristin's life falling apart at least makes the character relatable and sympathetic. The plot goes into sitcom territory after that. Kristin has an estranged grandfather who recently passed away in Italy. At the insistence of her grandfather's trusted advisor Bianca, she travels to Italy (which she thinks will be an exotic getaway where she "Eat Pray Fuck") only to find out that her grandfather is a mob boss, and surprise, wants her to take over the family business! How hilarious!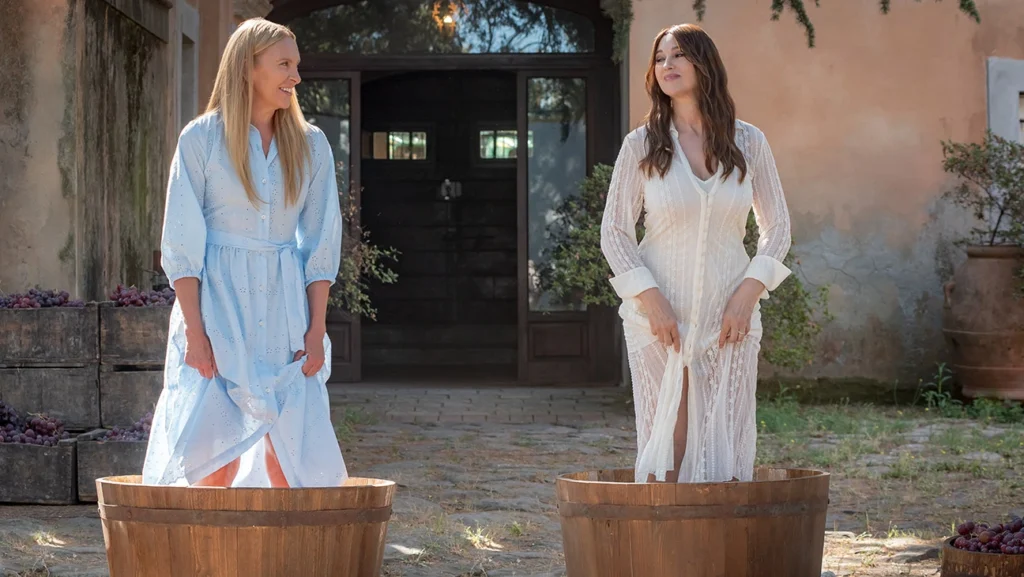 Tonally, Mafia Mamma is all over the fucking place. There are action scenes, gross-out comedy, and violent deaths at the hands of a stiletto, and it's also a romantic comedy. The only chuckles in the film come from Toni Collette riffing on the bizarre situations she's in. It's genuinely odd. Shame because I liked some of Catherine Hardwicke's earlier work like Thirteen (2003) and Lords of Dogtown (2005). I'm a tremendous fan of Toni Collette, who also produced this movie. I guess she was looking for something lighter after some of the darker recent films she's been in, like the brilliant Ari Aster film Hereditary or Charlie Kaufman's I'm Thinking of Ending Things. Her career has constantly gone under the radar, but she's delivered consistently fantastic work since the mid-1990s. She deserves a much better movie around her than this, but then again, she did produce it, lol.
My options for the Tuesday movie this week were this or The Pope's Exorcist. I had ruled out Super Mario Bros. and Air. I just wasn't interested in either or really. Then again, I was meh on Mafia Mamma and The Pope's Exorcist, which I don't think I would've cared for either. So you live, and you learn. The presence of Toni Collette and Monica Bellucci will make it passable for many. It's undemanding, and the tonal mishmash almost needs to be seen to be believed, but not for the price of a movie ticket. Every character is a one-note stereotype, and the comedy is cringey.
** out of ****