Despite a sitcom premise and the semi-creepy idea that a 32-year-old is trying to force a 19-year-old into sex for a car, No Hard Feelings works because of the performances and the fact the film has its heart in the right place. It's a raunchy comedy that also has characters we come to like and root for. While it's true, if the roles were reversed and a 32-year-old man was trying to have sex with a 19-year-old woman for a car, it would never get made, the film is savvy enough, and Lawrence is game enough to make fun of the age gap. Much of the comic mileage in No Hard Feelings comes from the fact the film DOES NOT condone Maddie's behavior. It's supposed to make you cringe, and it does; it's a comedy. This kind of movie would have been commonplace 20-25 years ago, but now comedy films are largely extinct. So it's nice that Gene Stupnitsky's film has done pretty well at the box office. Audiences seem to enjoy the humor, so spare me the fake controversy around the film.
No Hard Feelings stars Jennifer Lawrence as Maddie Barker, an Uber driver and bartender, who face financial hardship after her car is repossessed and she owes property taxes on her inherited home. In a desperate attempt to save her house, Maddie responds to an unusual Craigslist ad that asks her to date 19-year-old Percy Becker (Andrew Barth Feldman), a sheltered young man, in exchange for a car. Their initial encounters are awkward and misinterpreted, but they gradually form a friendship and embark on unconventional dates. As their relationship deepens, they face challenges and conflicts, including disagreements about their plans.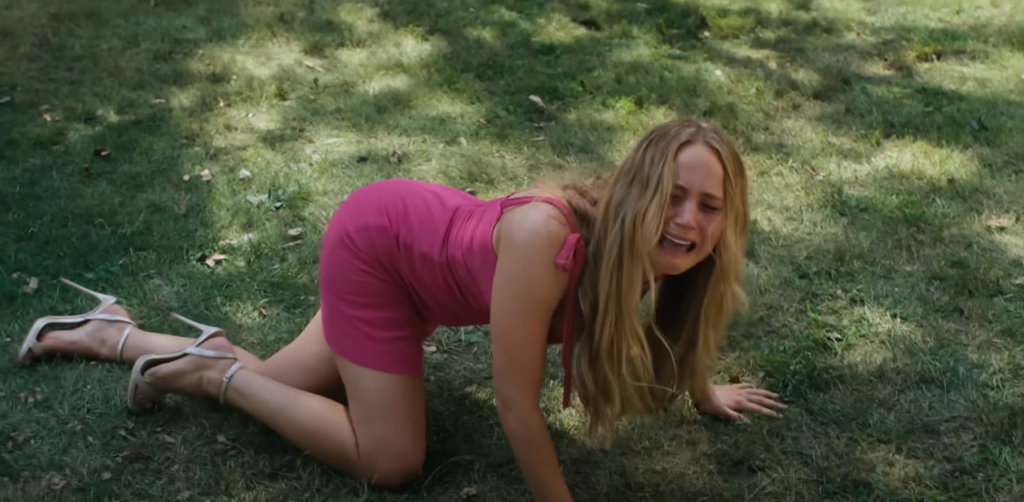 The success of any comedy depends on good comic timing and chemistry between the leads. That's one of the standout things about No Hard Feelings. Jennifer Lawrence and Andrew Barth Feldman have fantastic chemistry. Their characters learn from each other. I wouldn't call it a romantic comedy. Stupinksky does not fully commit to one, and one possible reason is the age difference between the characters: 32-year-old Maddie and 19-year-old Percy. It's more about two lonely souls trying to make sense of their worlds. I related to Maddie as someone in desperate economic times looking to survive. She's adamant about staying in Montauk and loathes vacationers and new money overtaking her town. This aspect of the film could have been handled better as it feels more like an afterthought.
Jennifer Lawrence should star in more comedies. She has a great personality and is dedicated to giving the audience laughs. Her first career nude scene is in this film, and it's a doozy. The sexualization of her character is played ultimately for laughs. The one thing I appreciated most about No Hard Feelings is that it knows what it wants to be and doesn't try to push beyond that. The idea of Ferris Bueller playing an overbearing father is also funny. Hopefully, No Hard Feelings opens the door up for more raunchy comedies being made. The film manages to be both raunchy and mostly inoffensive. There aren't too many surprising turns, especially if you've seen the trailer, but the film has some surprises up its sleeve and some nuance to boot.
*** out of ****