"Revenge is a meal best served cold." Denzel Washington's Creasy ponders at one point during Man on Fire. This is a common saying repeated in many revenge thriller films. What Man on Fire has to add to the genre isn't particularly new; the narrative beats we've all seen before; it's the way it's done that will leave a lasting impression on viewers and certainly me. This film qualifies for Unsung Cinema as it was not well received in 2004. On Rotten Tomatoes, the film has a rating of 38% based on 169 reviews, with an average rating of 5.30/10. The consensus states, "Man on Fire starts well but goes over the top in the violent second half." What critics most objected to besides the familiar story is what I'm mostly going to defend about the film, the way Tony Scott chose to shoot Man on Fire. Not too detailed, right? Also, what sets apart Man on Fire is its focus on building character relationships and establishing reliability. It also helps to have Denzel Washington anchor your film.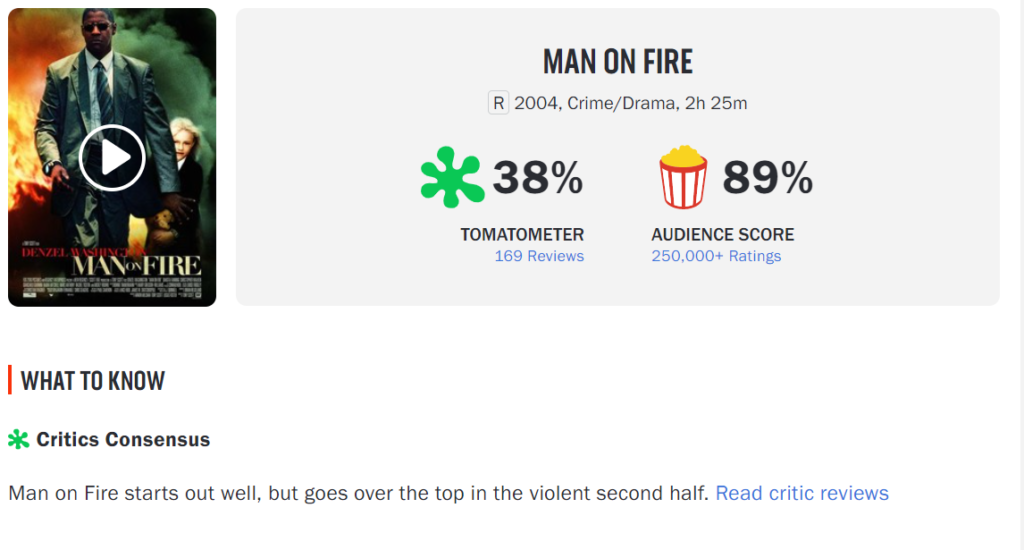 Man on Fire is a potent mix of revenge, redemption, and explosive action, anchored by the phenomenal performances of Denzel Washington and Dakota Fanning. Directed by Tony Scott and written by Brian Helgeland, the film is based on the 1980 novel of the same name by A.J. Quinnell. Set in Mexico City, the movie follows the story of John Creasy (Washington), a burned-out former CIA operative and assassin who finds a new purpose when, with the help of his friend (Walken), he is hired as a bodyguard for nine-year-old Pita Ramos (Fanning). When Pita is kidnapped, Creasy unleashes a torrent of vengeance on the criminals responsible. Along the way, he confronts the corruption and violence that permeates Mexico City and must confront his demons as he fights to save the young girl he has grown to love.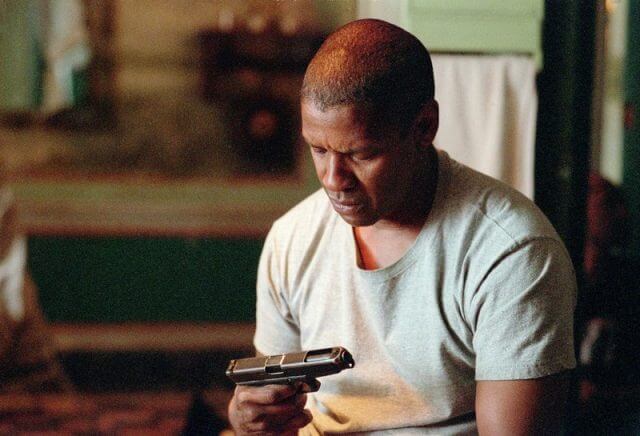 Man on Fire masterfully balances a gripping narrative with intense action sequences. The best thing the film does is regarding how the story unfolds steadily, allowing the audience to connect emotionally with the characters. In particular, the movie's first act focuses on the evolving relationship between Creasy and Pita, which becomes the film's emotional core. This heartrending bond makes the subsequent events even more impactful, as viewers are invested in Creasy's mission to save Pita and exact revenge on her captors. Helgeland's script skillfully weaves a tale of redemption as Creasy's quest for vengeance catalyzes his salvation. It's a perfect balance. It doesn't feel off-putting or weird that a man in his forties would form a bond with a 9-year-old girl. In a way, these are two lost souls coming together. Creasy is burnt out by years of being a CIA agent and killing. Pita is trapped in a world of wealth and privilege where everything she does is pre-determined for her.
Denzel Washington delivers a powerhouse performance as John Creasy. Washington's portrayal of Creasy's transformation from a broken man to a vengeful force of nature is captivating and profoundly moving. He skillfully portrays a man haunted by his past, weighed down by guilt and alcoholism. The audience can feel the pain and rage simmering beneath Creasy's stoic exterior, making his quest for justice and redemption all the more compelling. Without the presence of Denzel, this movie would not have worked as well as it did. He often has this effect on many films. When Creasy finally goes on his killing spree, we are right there with him every step of the way. We feel like we know this man. We know people like Creasy—beaten souls.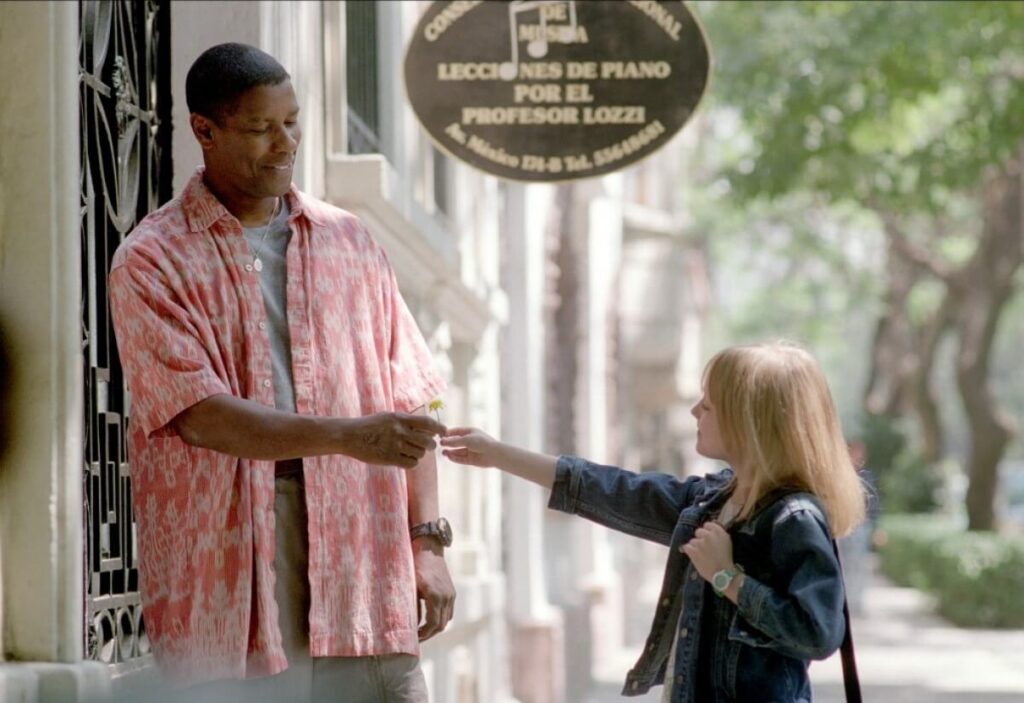 Despite her young age at the time, Dakota Fanning provides a mature and heartfelt performance as Pita Ramos. She effortlessly conveys the innocence and vulnerability of a child while also showcasing a strong-willed and intelligent character. The chemistry between Washington and Fanning is palpable, and their on-screen relationship is endearing. Watching this performance is incredible because although she's only nine, she comes across as entirely mature and wise beyond her years. Not in a corny snarky way like many movies with smart-ass kids do; she feels like an actual kid. Fanning's performance in Man on Fire was a turning point in her career, establishing her as a talented and versatile actress capable of handling challenging and mature roles. The film was widely regarded as one of her best works, and her portrayal of Pita Ramos remains one of her most memorable performances.
One of the most striking aspects of Man on Fire is its ability to elicit a wide range of emotions from the viewer. The film delves into themes of guilt, grief, and the power of redemption, skillfully woven into the narrative through character interactions and plot developments. The evolving relationship between Creasy and Pita is the movie's heart, providing a poignant counterpoint to the story's brutality. The film's conclusion leaves the audience with a profound sense of catharsis as Creasy's journey comes full circle.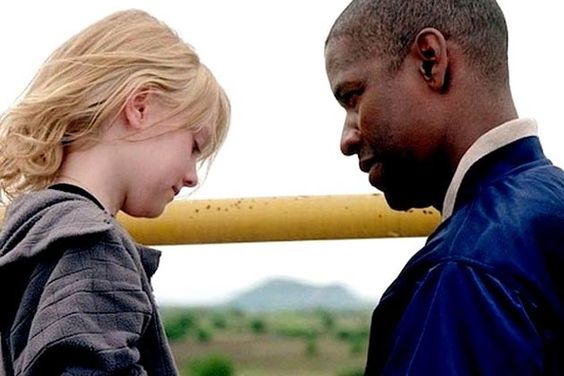 So we've established that Man on Fire takes its time as a character study and how that's a significant strength of the film. Now I want to focus on how Man on Fire is as much an action film as a character study. The emotional core and the action of this film are symbiotic. One plays off the other. As a filmmaker, you want your audience to have the same desire for wrath against Pita's kidnappers as Creasy. Tony Scott's directorial approach understands this, and the action sequences are stylish and visceral, featuring frenetic camera work and rapid editing that heightens the intensity of each scene. The movie's violence is brutal and uncompromising but never gratuitous. Each action set piece advances Creasy's character development and the plot, ensuring that the violence is always grounded in the narrative's emotional stakes. This is an aspect I think critics overlooked when it was first released in 2004. Many derided Scott for this visual approach and called it style for style's sake. The film was also criticized for reinforcing stereotypes about Mexico City, and it does, yeah. It's odd to see Scott support Mexico City during the end credits (thanking the city for being beautiful), but he also makes it seem like a dangerous place. I'll forgive that flaw because Tony Scott is trying to bring depth to a genre that often lacks it. Then again, many things and places are simultaneously beautiful and horrifying.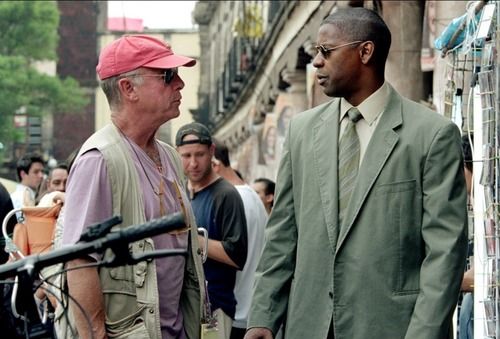 Man on Fire is a thrilling and emotionally charged film that explores themes of love, sacrifice, and the lengths one will go to protect those one loves. It has themes that stand the test of time, like redemption, sacrifice, love and protection, corruption and violence, and emotional turmoil. These themes are woven throughout the film, adding depth and meaning to the action and suspense and making Man on Fire a powerful and emotionally charged film that explores the lengths one will go to protect those they love. With solid performances by Denzel Washington and Dakota Fanning and visually stunning action sequences, the film is a standout entry in the action thriller genre. While revenge in real life isn't always the most moral pursuit, revenge movies serve their purpose by providing catharsis for the viewer. Often in real life, we are powerless to act, and that's frustrating. Watching someone act out these fantasies gives us hope that we can take control of our lives one day.
Man On Fire is streaming on HBO Max.